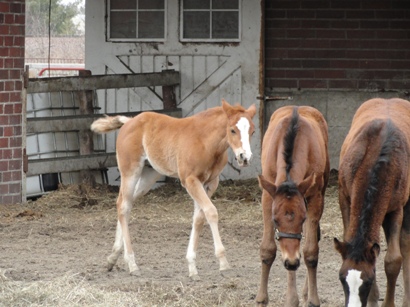 Foal Demonstration Case
You may either copy this entire webpage to your clipboard or only the text that is between markup tags.
<Title>Foal Demonstration Case</Title>
<Presenting Information Abbreviation>O Observation</Presenting Information Abbreviation>
<Formulation Abbreviation>A Assertion</Formulation Abbreviation>
<Framework Abbreviation>F Framework</Framework Abbreviation>
<Question Abbreviation>Q Question</Question Abbreviation>
<Additional Abbreviations>H History,M Mechanism,D Diagnosis</Additional Abbreviations>
<Formulation Relationships>supported by, indicates, causes, occurs with, results in, results from</Formulation Relationships>
<Contributors>This case is used with permission from Dr. Holly Bender.</Contributors>
<Presenting Information>
(refer to the image attached to the email that you received containing this case)
You are a practitioner with an interest in equine medicine. During a routine visit to an area stable, your client asks you to perform a physical examination and to draw blood and collect urine from a near weaning Thoroughbred foal for future sale. The potential buyer wants a routine examination before purchasing the animal. The foal is high spirited and makes the client chase him around the paddock a few times before he can be haltered. No abnormalities were found on physical examination.
What do you see in Image 1 that could be of concern?
</Presenting Information>
<Tables>
<Table><Table Title>Hematology</Table Title><Column Headings><Column One>Test name</Column One><Column Two>Test result</Column Two><Column Three>Ref. Int.</Column Three><Column Four>Units</Column Four></Column Headings><Row><Column One></Column One><Column Two></Column Two><Column Three></Column Three><Column Four></Column Four></Row><Row><Column One>RBC</Column One><Column Two>13.1</Column Two><Column Three>6.0-12.0</Column Three><Column Four>n*10^6/ul</Column Four></Row><Row><Column One>HGB</Column One><Column Two>19</Column Two><Column Three>10.0-18.0</Column Three><Column Four>g/dl</Column Four></Row><Row><Column One>HCT</Column One><Column Two>52</Column Two><Column Three>32.0-48.0</Column Three><Column Four>%</Column Four></Row><Row><Column One>MCV</Column One><Column Two>39.7</Column Two><Column Three>34.0-58.0</Column Three><Column Four>fl</Column Four></Row><Row><Column One>MCH</Column One><Column Two>14.5</Column Two><Column Three>13.0-19.0</Column Three><Column Four>pg</Column Four></Row><Row><Column One>MCHC</Column One><Column Two>36.5</Column Two><Column Three>31.0-37.0</Column Three><Column Four>g/dl</Column Four></Row><Row><Column One>NRBC</Column One><Column Two>0</Column Two><Column Three> </Column Three><Column Four>n/100 wbc</Column Four></Row><Row><Column One>ANISO</Column One><Column Two></Column Two><Column Three></Column Three><Column Four></Column Four></Row><Row><Column One>POLYCHR</Column One><Column Two></Column Two><Column Three></Column Three><Column Four></Column Four></Row><Row><Column One>HYPOCHR</Column One><Column Two></Column Two><Column Three></Column Three><Column Four></Column Four></Row><Row><Column One>POIK</Column One><Column Two></Column Two><Column Three></Column Three><Column Four></Column Four></Row><Row><Column One></Column One><Column Two></Column Two><Column Three></Column Three><Column Four></Column Four></Row><Row><Column One></Column One><Column Two></Column Two><Column Three></Column Three><Column Four></Column Four></Row><Row><Column One>WBC</Column One><Column Two>21.5</Column Two><Column Three>6.0-12.0</Column Three><Column Four>n*10^3/ul</Column Four></Row><Row><Column One>SEG</Column One><Column Two>13.33</Column Two><Column Three>3.0-6.0</Column Three><Column Four>n*10^3/ul</Column Four></Row><Row><Column One>BAND</Column One><Column Two>0</Column Two><Column Three>0.0-0.1</Column Three><Column Four>n*10^3/ul</Column Four></Row><Row><Column One>LYMPH</Column One><Column Two>7.31</Column Two><Column Three>1.5-5.0</Column Three><Column Four>n*10^3/ul</Column Four></Row><Row><Column One>MONO</Column One><Column Two>0.43</Column Two><Column Three>0.0-0.6</Column Three><Column Four>n*10^3/ul</Column Four></Row><Row><Column One>EOS</Column One><Column Two>0.43</Column Two><Column Three>0.0-0.8</Column Three><Column Four>n*10^3/ul</Column Four></Row><Row><Column One>BASO</Column One><Column Two>0</Column Two><Column Three>0.0-0.3</Column Three><Column Four>n*10^3/ul</Column Four></Row><Row><Column One>META</Column One><Column Two>0</Column Two><Column Three> </Column Three><Column Four>n*10^3/ul</Column Four></Row><Row><Column One>MYEL</Column One><Column Two>0</Column Two><Column Three> </Column Three><Column Four>n*10^3/ul</Column Four></Row><Row><Column One>OTHER</Column One><Column Two>0</Column Two><Column Three> </Column Three><Column Four>n*10^3/ul</Column Four></Row><Row><Column One>PLT</Column One><Column Two>750</Column Two><Column Three>100.0-600.0</Column Three><Column Four>n*10^3/ul</Column Four></Row><Row><Column One>PLT EST</Column One><Column Two>increased</Column Two><Column Three> </Column Three><Column Four> </Column Four></Row><Row><Column One>PP</Column One><Column Two>6.5</Column Two><Column Three>6.0-8.5</Column Three><Column Four>g/dl</Column Four></Row><Row><Column One>FIBR</Column One><Column Two>200</Column Two><Column Three>100.0-400.0</Column Three><Column Four>mg/dl</Column Four></Row><Row><Column One></Column One><Column Two></Column Two><Column Three></Column Three><Column Four></Column Four></Row><Row><Column One></Column One><Column Two></Column Two><Column Three></Column Three><Column Four></Column Four></Row><Row><Column One>URINALYSIS (VOIDED)</Column One><Column Two></Column Two><Column Three></Column Three><Column Four></Column Four></Row><Row><Column One>COLOR</Column One><Column Two>straw</Column Two><Column Three></Column Three><Column Four></Column Four></Row><Row><Column One>TRANSP</Column One><Column Two>clear</Column Two><Column Three></Column Three><Column Four></Column Four></Row><Row><Column One>S. G.</Column One><Column Two>1.026</Column Two><Column Three></Column Three><Column Four></Column Four></Row><Row><Column One>pH</Column One><Column Two>7.5</Column Two><Column Three>6.5-9.0</Column Three><Column Four> </Column Four></Row><Row><Column One></Column One><Column Two></Column Two><Column Three></Column Three><Column Four></Column Four></Row></Table>
</Tables>
<Self-Assessment>
<Self-Assessment Entry>
<NodeId>0</NodeId>
<NodeAbbrev>T</NodeAbbrev>
<NodeCol>0</NodeCol>
<NodeText>1) Indications that the foal does not have an illness</NodeText>
<NodeEditable>false</NodeEditable>
<NodeType>evaData</NodeType>
<NodeNarrative></NodeNarrative>
<Created>Fri Mar 22 11:29:11 GMT-0500 2013</Created>
<RowFixed>false</RowFixed>
<ColFixed>true</ColFixed>
<NodeSelectable>true</NodeSelectable>
<NodeRemovable>false</NodeRemovable>
<NodeRel></NodeRel>
<NodeFontWeight>bold</NodeFontWeight>
<NodeColor></NodeColor>
</Self-Assessment Entry>
<Self-Assessment Entry>
<NodeId>0</NodeId>
<NodeAbbrev>T</NodeAbbrev>
<NodeCol>0</NodeCol>
<NodeText>2) The effects of epinephrine release</NodeText>
<NodeEditable>false</NodeEditable>
<NodeType>evaData</NodeType>
<NodeNarrative></NodeNarrative>
<Created>Fri Mar 22 11:29:11 GMT-0500 2013</Created>
<RowFixed>false</RowFixed>
<ColFixed>true</ColFixed>
<NodeSelectable>true</NodeSelectable>
<NodeRemovable>false</NodeRemovable>
<NodeRel></NodeRel>
<NodeFontWeight>bold</NodeFontWeight>
<NodeColor></NodeColor>
</Self-Assessment Entry>
</Self-Assessment>
<Case Elements>
<Element><Reference Formulation Available/></Element>
<Element><Self-Assessment Required/></Element>
<Element><Currency Label>No currency selected</Currency Label></Element>
</Case Elements>